Carr Gomm's Dundee service has raised an incredible £921.64 with their Fundraising Gala!
On Friday, the 1st of September, our Dundee service held a fantastic Fundraising Gala at the Brooksbank Centre.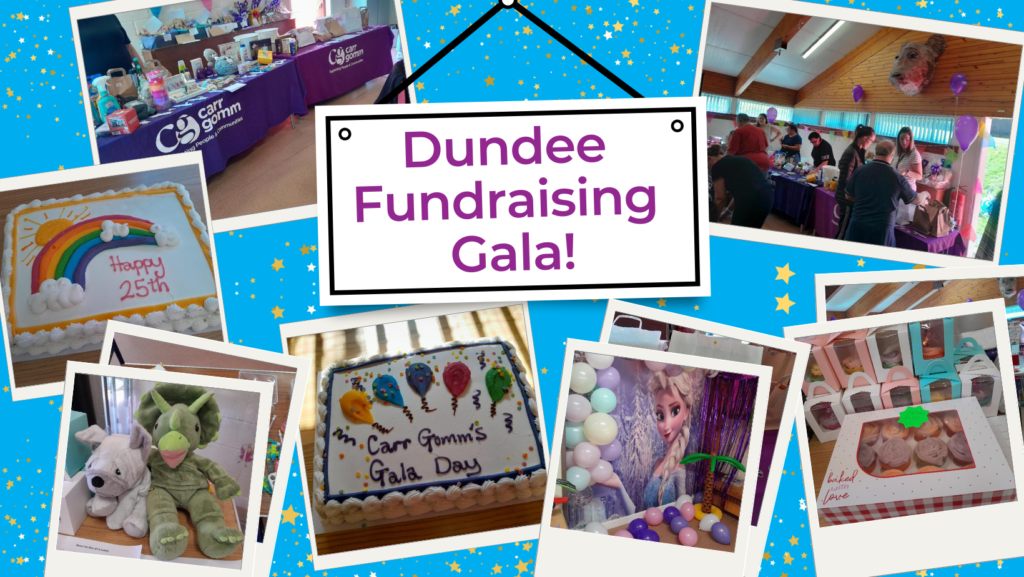 The event featured various activities for people of all ages to enjoy. There were several raffles where you could win prizes ranging from beauty products and Carr Gomm merch to Dundee FC tickets and fabulous gift hampers. Check out the list of winners at the bottom of the page and see if you got lucky!
The Brooksbank Centre generously donated the venue to support the fundraiser, and the Carr Gomm staff and volunteers were excellent in helping the fun and wild activities take place.
There was a range of stalls where people could buy children's activity packs, play with sensory toys and even a delicious bakery stall selling goods, including cupcakes, rainbow cakes, cookies and Rice Krispies treats! Birthday cakes to celebrate Carr Gomm's 25th Birthday delighted everyone and tasted delicious, too!
The petting zoo let people see and play with some adorable and unusual animals– from the cute and cuddly guinea pigs, rabbits and chinchillas to large snakes and iguanas. There were squeals, shrieks and lots of laughter as people got to play with animals they wouldn't usually get to see.
Throughout the event, DJ Chris created a party vibe with a mix of classic bangers and modern hits, to the delight of everyone in attendance.
The Elsa (Frozen) backdrop provided an excellent setting for the Photobooth. Along with hats, props and masks, people took the chance to strike their best pose and commemorate the event.
"It was an amazing event. I had so much fun!" – said a person in attendance.
The event also featured a visit from some very special guests – Mickey Mouse, Minnie Mouse, and Scooby-Doo! The gang were on hand to pose for pictures, bringing smiles to everyone's faces!
The Fundraising Gala was an excellent event that brought people together and helped raise money for an important cause.
---
The Dundee team would like to extend a big thank you to the following individuals and organisations who donated to the Fundraising Gala:
Clare Fleming
Staff and volunteers who donated their time to make the event a success.
---
Prize winners:
Dundee FC tickets were won by Laura McNab.
Yorkes of Dundee was won by Suzanne Logan and Nic Carol.
Dundee Stars were won by Stella, John and Pamela.
Ryze was won by Jennifer Scott.
Buzz Bingo Tickets were won by Carol Saunders and Robert Keenan.
Name the Dog was Chester, and it was won by Vic Campbell.
Name the Dinosaur was Bruce, and it was won by Jordan Smith.
---
Didn't make the event but want to support the Dundee Team?
Several daredevils from the Dundee service will be taking on a Bungee Jump on the 29th of September.
To sponsor them, visit https://www.justgiving.com/team/teamcarrgommdundee.